Yes, davek79 , I will be sharing them.
Today I designed and 3D printed some stoppers for the stand hinges so that they will stop in the right position when unfolding it.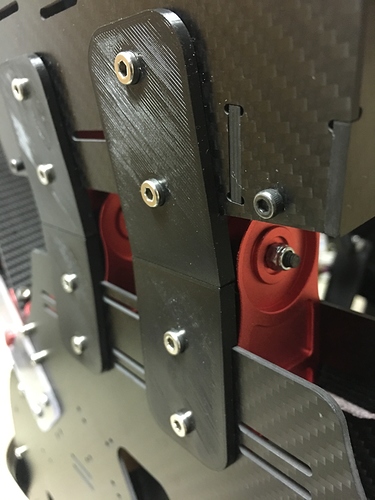 Here are the files. They are printer friendly because I added a bridging layer at the countersink transition which is easily cut away later. I printed them at 0.2mm layer height.
Hinge Stop A.stl (128.0 KB)
Hinge Stop B.stl (128.0 KB)
Ooh, I'd love those too! I've been considering putting pins in those hinges, my legs keep bending as well. Please post the CAD for them!
This community is simply awesome.
@GliderPilot you could add the CAD files to the Github repository


and even sell them to others, who do not have access to a 3D printer.
I added the files to the original post above.
Awesome, I'll add those to the github. Pls send your Arm latches when you have time!
I designed some printer friendly hoop connectors. The mating portion is a little bit longer to hold the tubing better. They are printer friendly because they are printed in two pieces (same piece printed twice) making it so no support material is needed during the print. This makes the print quality better which makes them fit better. The original ones got pretty loose and weren't staying connected good.
Here are the files:
Net Hoop Connector Large.stl (592.3 KB)
Net Hoop Connector Small.stl (585.0 KB)
I added the stl to my original post above.
Last night I did some ridge soaring on the beautiful mountain by my house! I flew for 50 minutes on a set of 4 Bonka batteries because I was able to fly without the motors running for half that time. My altitude above launch was 1400 feet. This is the very reason I bought the motor and I finally was able to do it!
No vids yet!!!
Those eyelets are not aviation grade - wont pass in Canada!
Which got me thinking if we would need to switch all the hardware to aviation grade to meet our amateur built class up here.???
Canadians are renowned for being super polite/apologetic and safety! I think our toilet paper has a safety rating:rofl:
Cheers
I was hooking them to the carbon (see yellow circle) but the clasp didn't have anything to close around and I feared there was a small chance they would come undone if the rope got loose. Definitely safer now than what I was doing.
See my Oh Canada registration thread comment. We won't need aviation grade hw.
@gliderpilot nice mod… I've been clipping the net hooks together behind the harness. This is more elegant! Nice idea.
Here are some short clips from our first flights:
Those Videos are awesome, thank you very much!
Lucky you! Awesome videos!
I've added all your STL's to the github so people can find them more easily

Fantastic - thank you for posting vids
Braedin @glydrfreak loving my Tequila 4 with the motor after watching one too many Tucker Gott videos!
Foot dragging, yeah