I am thinking about a printer - just curious who has what - pro's and con's
Cheers, Patrick
Stratasys Dimension SST
1200es
Nice - I guess I should of said budget printers - LOL
Cheers
Prusa i3 MK3, quite a nice setup, my second printer. Clones can be had for cheaper, but without the support and quality. A bit more diy.
I'm happy with my Prusa as well
Got some interesting news yesterday - our office in Calgary has a printer, I'm in our HQ in Toronto area.
I have known for a few weeks about their printer and I got some USB stick holders yesterday from them that I had requested. I then said to my manager that we should order some more holders as 10 was not enough. He indicated we were getting our own printer. He also indicated that u need to spend about a 1000 to get something halfway decent. I am thinking that is more to having something that looks like it suits visually to our needs as they are always bringing tours in so you want it to look somewhat nice I am guessing. My "in my head" thought was how cooperate HQ people dont like to be 2nd to satellite offices, so It should be better then theirs!

So I am now in the waiting stage to see what we get and how to sneak in my own little projects in here and there.

Thanks for the input
Cheers, Patrick
Also have Prusa I3 Mk2.5. Very happy with it and lots of mods. I put mine in heated enclosure to print engineering materials with very good results. No problems printing ABS/PC alloy and carbon fiber infused PC.
Charles
Very interesting - I have read PC is hard to print - can you post a pic of your set up.
Cheers, Patrick
Pictures attached. Also some notes below:
I use octoprint and have the enclosure plugin. This is an absolute must. There are a bunch of relays which control, enclosure heater, exhaust fan (to get rid of post print fumes), lights and power. For PC/ABS I set the enclosure temp to 55c, Link here: plugins.octoprint.org/plugins/enclosure/. Also you need to have auto cooling enabled in the filament settings which is not typical for ABS / PC. Link to the directions to get octoprint set up with sensors etc. thingiverse thing:2245493 I don't like his enclosure but it has the best directions on the electronics and setup. If you search thingiverse for Lack Enclsoure there are all sorts of designs. I designed all the part for my enclsure and printed them with ABS however its just a Lack table design. However you need to print all enclsure parts in ABS or PC/ABS, PLA will melt. Prusa has one on their blog and if you search Lack Enclosure on thingiverse there are a bunch. Happy to share my Fusion 360 files as well if you're interested.
I also reprinted all the all the hotend parts in PC/ABS to better withstand the high temperature of the chamber and will slowly upgrade all other printer parts to PC/ABS over time.
I primary use polymaker PC max which prints with better results than ABS (need brim on for larger parts) and also use 3dxtech carbon-fiber-pc but its more brittle than PC max and is very expensive so am phasing it out. It also requires a hardened steel nozzle.
Lastly the pic doesn't have the new heater setup. I tried small space heaters and they don't work so i went with a 1000W-AC-110V-PTC-heating-element-heater-Electric-ceramic-Thermostatic-/3 and this fan ebay.com/itm/120mm-x-38mm-110V-115V-120V-Ball-Bearing-AC-Cooling-Fan-w-3FT-Power-Plug-NEW-/151932619241?hash=item235fe3c9e9.
Also was limited to 1 picture and 2 links so had remove links most of what i referenced.
All prusa style printers have a rigidity problem. CoreXY printers are the way to go and not much more in price.
i have a Prusa i3 Mk1 for 5 years. the Mk3 is better but still has the same rigidity issue.
if you lightly touch anywhere you deflect the nozzle by ~1mm so vibration cause disturbances in print quality.
I've put my Mitutoyo dial indicator on it and tested it.
my printer also has a problem where the carriage hits on the far X side so my print space is limited to 200mm instead of 220mm X… its a horrible design. it originally had an acrylic bed support which would warp durring a print it was deflected in one corner by 3mm. since i added an aluminum plate i dont have to re level the bed every 30 minutes.
i'm planning on building a coreXY i designed some time in 2019.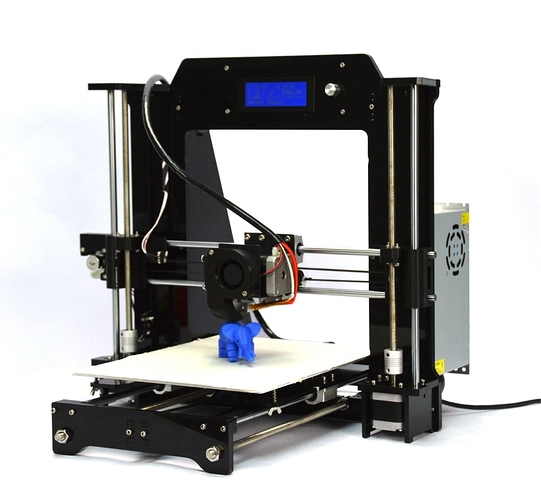 I have a FolgerTech Kossel 2020 that I built from a kit two years ago. It is my favorite tool in the workshop! …but I am not willing to build a heated enclosure, so, my prints are mostly in PLA. Folgertech is located in New Hampshire, and they have some very "solid" kits, but you must be a "maker" to take one on. https://folgertech.com/
Selecting a printer can be challenging. Simon does an excellent job in this review of printers, and it may give you an idea of some things to look for: https://www.youtube.com/watch?v=2IE6hSQu4lI
Happy New Year, Y'all!!
I see that in another article as well – so people use this design to build their own?
Maybe not generally but all CoreXY printers are box frame. its not easier to build because of the belt system but the frame is inherently sturdy. I'm personally building one so i can enclose it easier for printing with ABS and other difficult fulfillment. Sure you can buy one but designing and building your own is more fun and gives you more control over its structure and workings.
What is the min bed size recommended - I see most between 200mm to 300mm.
I guess the biggest u can afford - but just say for printing stuff for here you only need 200?
Material – abs or pla or petg? What do you use most?
I would go with the prusa, for the money, one of the best deal you can get. While they are not that rigid, the MK3 is much better than first version. Also its a 3d printer, not a CNC router or mill, so it doesnt need to be that rigid, the forces are very low, just moving the head around. I've gotten great results with mine. You could go with a corexy but seems like a lot of work and tinkering, versus getting up and printing. With respect to prusa they update software about every month and are constantly improving. As far as size goes you wont need bigger than 200×210x300m for most all of what you'll make. Also if you are going bigger print times will be problematic 1+ days, if you want functional parts. I also have a millright carve king CNC which has a larger work area area and is great for platic, wood, CF plate and soft metal at least plate and you can make parts in a fraction of the time. For aluminum parts with deeper z cuts i'm considering a Taig CNC.
Tronxy X5SA give you a 400x400mm space for around $400 but whether or not you get all your screws is a mystery. a friend of mine received no M4 screws but they were required. all he got was 3 Different M3 sizes.
Prusa really isn't worth the price if its not rigid. my Mk1 has a problem where the bed is 1deg off and i cannot adjust it. i tried everything for months. only solution is a new printer and it wont be prusa.
That sucks. My MK2.5 has been a workhorse and the MK3 looks really nice. However the MK1 seems to have been a problem for many.